| | |
| --- | --- |
| | FAQ Questions and answers on Dog Behavior Problems |
( return to Houssen's Dog Training Center Home Page )
Darr Houssen's Dog Boarding Facilities
Kennel Information
We have a large area for exercising as you can see in the second picture. There is an eight foot high fence and wire mesh buried under ground for extra security. You will also notice more exercise areas within the huge exercise area. We monitor with closed circuit TV the inside of the building, the inside temperature, as well as the yard area at the main house on 4 different monitors. The action on the right is an agility obedience class in progress.Our kennel building (on the left) is very well insulated for heating for the colder months.

Presently we can take care of over 40 dogs comfortably in side of the building. Our facilities are designed so that we can interact with the dogs on a personal level. They are not shoved in to a kennel to stay. They freely come out with us to exercise areas in the secured area.Our hours are generally 8 AM to 6 PM Monday to Saturday and 2 PM to 4 PM on Sunday as well as 8:30 PM to 9:30 PM on Sunday. In the slower off seasons it is advisable to call first. This number is given to you on your first visit with us.We may have something that you should be aware of. We are trainers. Training dogs over 30 years as a couple, Darr and I. This is important for the care of your dog as if there is any separation anxiety, fear or aggression we know how to deal with this and make your dog feel like he/she is on a vacation as well. Our job is to do just that. If you can go on vacation, have a good time because your pet (baby) is in good hands and on vacation as well, then we have done our job. You will see the second time you come here. Your dog will pull you towards the kennel area. Isn't this what you would want?Not sure? call your local veterinarian or pet store or even better. Someone who has been here before. Then, even before making a decision on where you would like to leave your pet, visit all the candidates.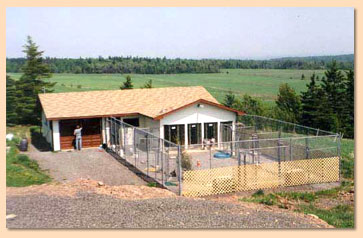 Picture from summer
Visit all the boarding kennels you are considering. Then make your decision. After all you would do exactly that if it was your child going to a new day care center right!.
Our rates are $30.00 per day total. Our days are measured somewhat like a motel would charge. Except we are a little more lenient. For instance if you come in at 9 AM and go out at 6 PM the next day this is a 2 day charge. If you come in at 9 AM and go out the next day before noon this is a one day charge. If your not exactly sure of the charges be sure to ask. At the bottom of this web page there is a link to a map to our facilities and directions. It is on a separate web page so you can print it to bring to your car.Remember to make your next trip away from home an enjoyable one for both you, and your dog.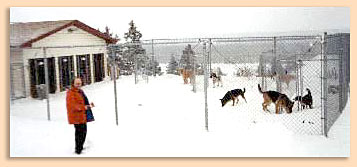 Winter scene